Earthlight Projects
Project Tycho - Synthetic View Flight Display System
The Tycho SVFDS or "Synthetic View Flight Display System" is software designed to display a real-time computer generated 3-dimensional Rendering of an aircraft's physical environment. In conjunction with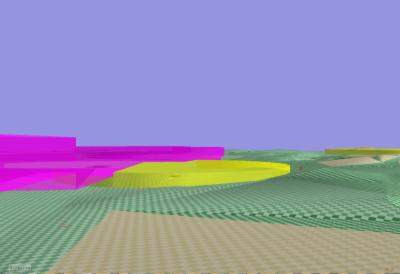 Screen shot from Tycho proof-of-concept
position and orientation information provided by GPS and AHRS (Attitude Heading Reference System) units, Tycho displays a computer generated synthetic view of the terrain, airspace, and obstacles that are out in front of the aircraft.
Tycho is primarily designed to help pilots avoid terrain, obstacles, and airspace incursion while flying visually: not under Air Traffic Controls guidance. It is also designed to help non-instrument rated pilots maintain control and avoid hazards in the case of an inadvertent visual flight into low visibility conditions - a situation that accounts for a large percentage of aviation accidents.
Tycho is in early development.
Project dRAIS - digital Regional Aviation Information System
The dRIS or "digital Regional Information System" is a system for digitally distributing regionally significant information to aircraft in flight. Utilizing terrestrial broadcast facilities, the dRIS system seeks to gather and distribute such information as airport data (frequencies, TPA, runways in use, wind direction, advisories/NOTEMs, sky conditions, METARs), weather data (SIGMETs, AIRMETs, pilot reports), and general data such as NOTEMS and TFRs. Once received, this information can then be displayed in the cockpit using the Tycho system or an MFD (Multi-Function Display).
dRIS is in the investigative stage.